Ramahnik Adena R. Helps Stock Pantries with Needed Supplies!
We are extremely proud of Ramahnik Adena Rochelson for her work with Operation Soap Dish, a project she created to help stock local pantries with much-needed toiletries & other supplies.  Here is an excerpt from a wonderful article about Adena's efforts: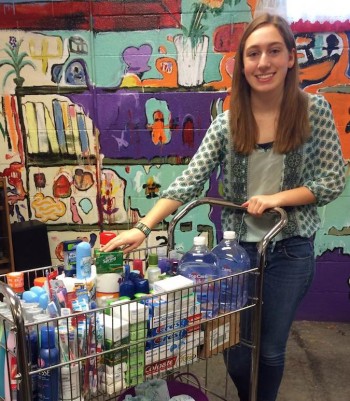 With her $4.50 weekly allowance, Adena Rochelson wanted to fill an empty shelf at a local food pantry near her upstate New York home with toiletries and cleaning supplies.
Adena Rochelson with toiletries she collected for local shelters and food pantries. (Courtesy of Adena Rochelson)
After soon realizing that she would need more funds and supplies, Rochelson — then a fourth-grader — launched a social action project that would raise awareness of the shortage and provide much-needed toothbrushes, shampoo, toothpaste and soap to nearby shelters and food pantries.
"I realized that involving other people was the way to go," said Rochelson, now 15.
Operation Soap Dish, which she dubbed her project, has been growing steadily since its inception in 2009. It now partners with supermarkets, toiletry manufacturers, synagogues, churches and fraternities at Syracuse University, near her Fayetteville home, to collect and distribute more than 28,000 items.
You can click here to read the full article, and an interview with Adena.
In the interview, Adina mentions her experiences at Camp Ramah in New England!
Can you share with us a meaningful Jewish experience that you've had?
I go to Camp Ramah in New England, and just having Shabbat, especially Havdalah — which is my favorite service — standing in a circle with my friends with the light of the candles is very memorable and meaningful.
---